Did you know that Okinawa, the southernmost region of Japan, has one of the world's highest life expectancies?
In fact, Okinawa has one of the world's highest proportions of residents over 100. Nutritionists and other health professionals have spent years trying to figure out their secret. And while they've identified many factors, one stands out: a concept called hara hachi bu.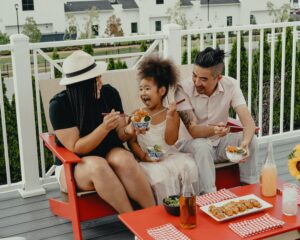 What is Hara Hachi Bu? What are its benefits?
No leaving the table until your plate is totally clean.
It's a rule that generations of children in Western societies have had to obey, one that follows them into adulthood. And, of course, food waste is something we should all think about. But often, the rule results in kids mindlessly scarfing down their dinner so they can play outside, watch their favorite show, or have a bowl of ice cream.
In adulthood, the habit turns into eating quickly so you can get back to your job, housework, or errands.
But many households in Okinawa approach a full plate differently.
The idea behind hara hachi bu is that you eat not until you feel totally full, but rather until you're no longer hungry. A good rule of thumb is to put down your fork or chopsticks once you're 80% full. In order to gauge your level of hunger, you'll need to eat slowly, paying close attention to how you feel throughout your meal. While the practice may feel unnatural at first, you'll soon enjoy its many benefits, including:
1.      Weight Maintenance
A good meal nourishes the mind and body alike. But not at the same time.
It takes your brain 15-20 minutes to register that your belly is full. In the meantime, you're likely to continue eating. Overeating has short-term side effects like post-meal fatigue and acid reflux. In the long run, it can lead to unwanted weight gain.
If you feel 80% full, chances are your stomach is actually at full capacity.
At that point, take a break to chat with your loved ones, people-watch, or admire the dining room décor. If you don't feel full after 15-20 minutes, go ahead and have a small second helping. Your waistline will thank you.
2.      Better Quality of Life
Longevity is a great thing to aspire to, but when it comes to your years on this planet, quality is just as important as quantity.
Luckily, hara hachi bu doesn't just help people live longer. The practice also makes them feel better. Studies have suggested that overeating can speed up mental and physical aging. This process can lead to earlier onsets of health issues that can keep you from doing what you love.
Meanwhile, Okinawans tend to retain high bone density and have lower rates of heart disease, cancer, and depression, throughout their long lives.
3.      Increased Mindfulness
When practicing hara hachi bu, you're bound to become a more conscious eater.
You'll become more aware of your body and the signals it sends you. You'll stop thinking of your to-do list and start thinking of the lovingly crafted food in front of you. And so, you'll become more aware of the flavors dancing on your palate. Over time, eating will become not just a means of sustenance, but also a source of joy and curiosity.
More Lessons from Okinawa
As mentioned before, hara hachi bu is just one of many reasons for Okinawans' longevity.
Other factors include strong social bonds, a culture that emphasizes sense of purpose, and warm weather that lends itself to spending time outdoors year-round.
Your next Orlando vacation is the perfect time to live the Okinawan way.
Like Okinawa, Central Florida boasts a subtropical climate, perfect for fun in the sun. Days spent park hopping, golfing, or swimming with your loved ones help you stay active while spending quality time together.
During your downtime, lounge by the pool, contemplating what you want out of life and how you'll get it. Or, if your sense of purpose is already strong, rest up so that you return to your family, workplace, or community energized and ready to serve.
And, when it's time for dinner, remember hara hachi bu.
Entrées at Shōgun Japanese Steakhouse are prepared tableside, giving you an awareness of what you're about to eat, and an appreciation of the work behind it, from the start. As you eat your teppanyaki platter, slow down to savor its complex flavors and keep track of how full you are. Once you hit 80%, stop and ask for a to-go box.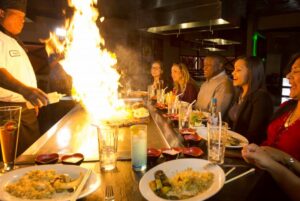 Then, head upstairs to put away your leftovers in your guestroom minifridge. When you stay at Rosen Inn, you can enjoy the authentic cuisine at our Japanese Restaurant without leaving your hotel.