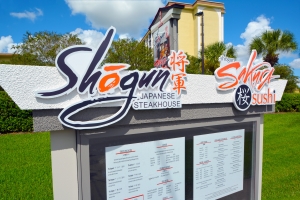 Sushi is already loved by many, but it'll be loved by more once they learn the ways making it a regular part of their diet can be beneficial to their health. Shogun Sakura Sushi makes that easy and enticing with its Sushi Happy Hour, but here are four benefits of sushi that'll help you turn every hour into happy hour! 
1. Helps Prevent Diseases & Reduces Inflammation
Fish is well known for containing omega-3 fatty acids, which the American Heart Association says is associated with improved cardiovascular health. These acids are great for fighting against heart disease and stroke. 
When you eat sushi rich in omega-3 fatty acids, you're helping to fight off the risk factors that contribute to heart disease, such as high blood pressure and cholesterol. 
Omega-3 fatty acids contain nutrients that feed the brain cells and promote cell regeneration. It can also prove helpful in preventing age-related mental diseases such as Alzheimer's, and a study showed that consuming fish rich in omega-3 fatty acids helped increase grey matter in the brain, which promotes better memory and cognitive function. 
The omega-3 fatty acids in sushi are also great for reducing chronic inflammation, which is associated with a higher risk of cancer, diabetes, heart disease, and stroke. 
Another common sushi ingredient is wasabi, which also has strong anti-inflammatory properties, as well as nori, the seaweed used to wrap sushi. 
2. Promotes Healthy Blood Circulation & Rich in Antioxidants
Once again, omega-3 fatty acids are coming through to save the day. Because they are classed as an essential fat that the body can't make, it's important to eat foods rich in them. These nutrients help relax blood vessels, as well as reduce blood pressure. 
Sushi can also pose a great source of iron due to its two key ingredients: fish and soy sauce. Iron helps boost the production of red blood cells. The more red blood cells you have, the better your blood circulation will be.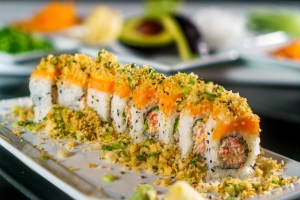 The ingredients in sushi are also rich in antioxidants, which are important when it comes to defending your body from substances that aren't good for it. Green wasabi and ginger are both common sushi ingredients, and both of them are rich in antioxidants. 
Antioxidants prevent oxidation and fight off free radicals in the body. Free radicals are a toxic product of oxygen metabolism that tend to cause damage to living cells and tissues. So, the more sushi you eat, the more you help your body. 
3. Rapid Muscle Repair & Bone Strengthening
Sushi makes for an excellent source of protein, and if you couple it with regular exercising, it can aid in muscle repair and recovery, one study suggests. Having sushi at least two or three times a week will provide you with maximum benefits for muscle repair. 
Protein is not only good for building muscles, but it can also aid in hair growth and keratin strength in your nails. Hair follicles are made mostly of protein, and this study suggests that a lack of protein in your diet can contribute to hair thinning or loss. 
Fish also makes for a great source of calcium, which is the primary mineral necessary for bone health. One study has shown that fish consumption may protect against bone loss. Making sushi a regular part of your diet will promote healthy joints and help prevent serious conditions such as osteoporosis. Just like protein, calcium is essential in promoting healthy hair and nails. 
4. Great for Managing Weight
If you're the kind of person who loves dieting to maintain a specific weight, then you'll definitely want to consider adding sushi to your diet. 
Oils and fats are largely responsible for health issues. Sushi is one of the few foods you can get in the U.S. that isn't full of those unhealthy ingredients. 
Sushi is also good for cutting cravings, which, if you're trying to stay away from certain unhealthy foods, is perfect for managing your weight. 
If you're trying to practice mindful eating, which involves being engaged in your dining experience, then you may find solutions in the utensils used to eat sushi. When eating with chopsticks, you're more aware of how you feel and how much food you're taking in, which can aid in weight management. 
5. Makes for a Magical Dining Experience
The best benefit of all is that you can even enjoy sushi during Magical Dining 2023! From Aug. 27 to Oct. 2, you can enjoy Shōgun's take on Magical Dining in Orlando.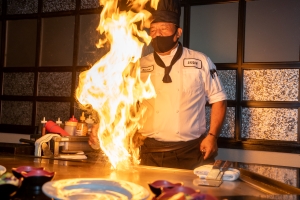 For only $40 per person, you can craft your own magical dining experience from Shōgun's prix-fixe menu. Sushi is one of the first things to choose from. You can get tuna nigiri and salmon nigiri, a shrimp crunch roll, or a lemon drop roll as your appetizer — and experience all the wonderful benefits that come with eating them. 
Roll Your Way Into Shōgun Sakura Sushi
Food in your belly is the only thing you'll be thinking of after a long day of wandering around Orlando theme parks — next to sleep, of course. As you make your way back to Rosen Inn, make dinner plans easy by dining at our on-site Shōgun Japanese steakhouse.
Shōgun Sakura Sushi is one of the newest dining establishments added to Rosen Inn, and it sits right next to the award-winning Japanese steakhouse. Now that you know how much sushi can benefit your health, come join us at Sakura Sushi during happy hour.