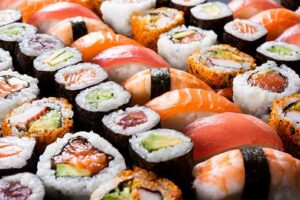 Although you may not immediately create sushi to the same standard as an experienced sushi chef, making sushi at home has some serious perks.
First, it's a great way to save money. When you make sushi at home, you don't have to be a high roller to have more sushi in front of you than you could possibly eat. Quickly you'll find out how far a few ingredients go. Secondly, preparing sushi at home makes for a fun date or night-in-with-the-kids activity.
So, if you're sold on breaking out your chopsticks for a sushi night at home, we're here to give you the rundown on how you can make some of our yummiest rolls right in your kitchen.
Making Sushi at Home
This is the fun and most daunting part: knowing what you'll need.
You see, there are things you need such as tools and basic ingredients to make sushi. But the best part is that you can totally get creative with the fillings and toppings. For your first roll ever, maybe keep it simple. Why not try to make a California roll?
We promise, making homemade sushi gets easier with practice.
Sushi Making Materials

Here's what you need to get rolling:
Bamboo sushi mat
Plastic wrap
Sushi rice
Rice vinegar
Nori seaweed sheets
Salt
Sugar
Your choice of protein:

Salmon, tuna, crab sticks also known as "Krab" (all raw options should be sushi grade)
Tempura shrimp or tempura chicken
Or any of your other favorite staples
This is where you can get as creative or basic as you'd like. Need some inspiration? Read through the menu at Sakura Sushi. Still need a few ideas? We got you.
Here are suggestions for fillings:
Cucumber
Avocado
Green Onion
Jalapenos
Mango
Carrots
Good toppings and the right sauces makes everything taste great.
Why not try:
Seaweed salad
Tempura flakes
Masago
Krab salad
Avocado
Mango
Soy sauce
Spicy mayo
Sriracha
Eel sauce
Pro tip: Most of these items can be found in your grocery store
Get Cooking with These Instructions
Step 1: Prepare and cook the rice
One cup of rice makes about 3 rolls of sushi.
Wash your rice until the water running off is clear. Let the rice soak in water for 30 minutes, then drain. If you are in a hurry, then you can skip the soaking step. Add your drained rice to a pot to be cooked on the stovetop. Add about 20% more water than rice to the pot. For 1 cup of rice, you will need about 1.2 cups of water. Cook on high, stirring every few minutes until the water boils. Then lower the heat, cover the pot and cook for 6-8 more minutes.
Let the rice cool for about 15 minutes before moving onto the next step.
Step 2: Season the sushi rice
After the rice cools down, add about 2.5 tablespoons of rice vinegar, 0.5 tablespoons of salt, and 0.5 tablespoons of sugar and stir in.
Step 3: Prepare your fillings
Slice your choice of protein and fillings into matchstick-size pieces. If being used as a topping, prepare as desired.
Step 4: Get rolling
Pro Tip: Cover your bamboo mat in plastic wrap to prevent messes and sticking.
Lay the nori sheet on the mat and press a thin layer of rice evenly onto the sheet. The rice should stick to the sheet. Set protein and fillings in the center of the rice-covered sheet. Then use the bamboo mat to roll up your sushi in a spiral fashion.
Step 5: Cut your sushi, add toppings, and enjoy!
Pro Tip: use a clean, sharp knife when slicing your roll.
Between cuts, you should wipe your sharp knife clean. Slice up your roll into 6-8 even pieces. Then add your choice of toppings and sauces. Last, plate your roll and admire your sushi craving right before you dive in.
Even if your finished meal isn't as perfect as a sushi made in a restaurant, be proud of the fact you created this masterpiece at a fraction of the cost.
Sushi Field Research
Sometimes the best way to learn how to make sushi is by watching the masters and tasting their creations.
Yes, the sushi-making process is fun and rewarding but also time-intensive. When you're hungry and don't have time to learn at home, "researching" at a restaurant is an excellent choice. Especially if you didn't quite nail the recipe or if you're still craving high-quality sushi after you're done rolling at home. Sakura Sushi is your best bet, and it has the best seating for students. Sit right at the bar where you can watch the masters work their skills and talents. Now the pressure is off from you as a student in training. All that there is for you to do is select your favorite expertly prepared roll from our diverse Sakura Sushi menu at Shogun Japanese Steakhouse.
Sakura Sushi Nails It Every Time
Let's face it, if making restaurant-quality sushi at home was perfectly simple, you wouldn't catch most of us spending our money on sushi boats and extravagant sashimi spreads.
True sushi fanatics know that a lot more goes into an exceptional roll than plain fish and rice. To better serve you and meet those expectations, the Sakura sushi chefs at Shogun Japanese Steakhouse have spent years learning how to season their rice and prepare fish to cut the perfect sushi roll. In fact, Sakura Sushi knows how to create a dining experience enjoyable for guests of all ages.
Located at the Rosen Inn on International Drive, we're Orlando's premiere sushi restaurant.
Learn more about the art of making sushi by dining at Sakura Sushi by using the OpenTable online system or by calling Shogun Japanese Steakhouse at 407-352-1607.