In spring 2022, fans of Sriracha hot sauce got some chilling news.
Huy Fong Foods, which makes the iconic rooster sauce, announced that it was halting production through the summer. Because of a drought, there's a shortage of the red jalapeños that give Sriracha its distinctive flavor.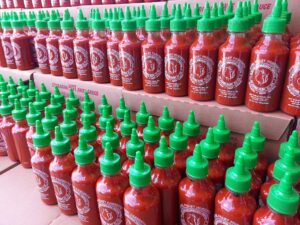 If you've been rationing your Sriracha bottle all summer, take some time this fall to celebrate the beloved sauce's comeback.
Sushi and Sriracha: Rolling Together Since the '80s
You could say that Sriracha and American sushi grew up together.
Huy Fong started making Sriracha in the 1980s when a Vietnamese immigrant living in Los Angeles wanted a taste of home. At the time, LA was the heart of the American sushi scene. Local chefs were getting creative, changing up traditional rolls with west coast ingredients like salmon, avocado, and, yes, Sriracha.
Soon, diners across the country were craving these uniquely American sushi rolls.
Savor Some Spice at Sakura Sushi
If this post is making your mouth water, take a seat at Sakura Sushi in Orlando. Two of our signature rolls feature your favorite chile-garlic sauce.
Godzilla Roll
If this summer's left you with a monstrous craving for Sriracha, order a Godzilla roll.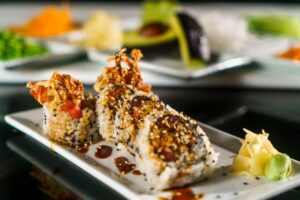 There are nearly as many textures and flavors in this sushi as there are Godzilla movies. It pairs crispy shrimp tempura with softshell crab and tuna. We top it with a sprinkling of sesame seeds, flavorful smelt roe, and sweet-and-savory eel sauce.
And, of course, this sushi roll contains just the right amount of Sriracha. Enough to add a kick, but not so much that you breathe fire.
Mexican Shrimp Roll
This roll is a little umami, a little picante, and a whole lot of delicious.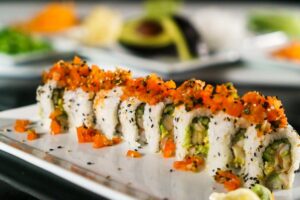 The main ingredient in this sushi is shrimp tempura, making it a good option if you're not a fan of raw fish. We roll it up with creamy avocado and refreshing cucumber. The roll is topped with tomato, sesame seeds, and cilantro, plus a helping of rooster sauce.
Sakura Sushi: Rooster Sauce and More
Sakura Sushi has something for every palate. Let us put the spice back into your life this fall.
In addition to our Sriracha rolls, we serve everything from simple but splendid negi hama to flavor-packed rainbow rolls. Our Orlando sushi restaurant is next to Shōgun Japanese Steakhouse, Rosen Inn's award-winning teppanyaki restaurant.