Did you know that May 11 is National Eat What You Want Day?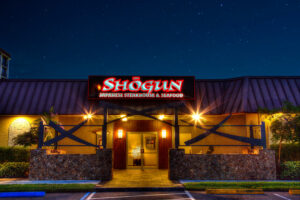 It's a day to go all out and indulge in your favorite foods. With its impressive menu of Japanese classics, Shōgun Japanese Steakhouse is the perfect place to celebrate your way. Our offerings are diverse enough that everyone in your party will find a way to satisfy their cravings.
Here are our recommendations for every type of diner.
For the Teppanyaki First-Timer
At our Orlando restaurant, teppanyaki cuisine takes center stage. For the uninitiated, teppanyaki refers to Japanese food cooked on a tableside griddle.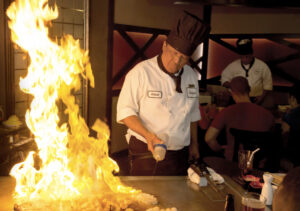 Our shrimp, chicken, and New York strip teppanyaki entrées combine familiar flavors with authentic Japanese flair. Watch as your chef prepares your meal, dazzling you with fierce flames and fancy knifework. Bring your appetite — all teppanyaki entrées at Shōgun come with veggies, fried rice, soup, and salad.
For the Teppanyaki Superfan
If you're a seasoned teppanyaki diner, Eat What You Want Day is the perfect time to go big.
Shōgun's specialty options include two royally good surf and turf entrées. Both feature tender filet mignon, cooked right in front of you. The Empress pairs your steak with shrimp, while the Emperor features lobster tail. No matter which you choose, you're in for a treat.
For the Sushi Lover
All year, sushi fans roll into our restaurant to enjoy our Sakura Sushi menu.
On May 11, why not order a signature roll or three?
Our rainbow roll features all your seafood favorites, including krab, yellowtail, shrimp, and eel. Avocado, cucumbers, and spicy mayo bring delicate complexity with cool ingredients and a touch of heat.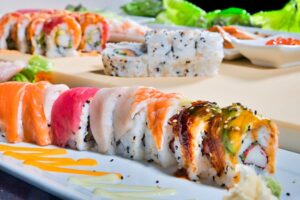 The Godzilla roll pairs softshell crab, shrimp, and tuna with a healthy helping of Sriracha. You can also spice things up with a lemon drop roll. It's made with spicy krab salad, salmon, lemon, and chile pepper tempura bits.
For the Sushi Curious
Diners who are still easing themselves into the world of sushi may not be ready for a raw fish dish.
And that's okay! The California roll was invented for that very reason. Our version features cured krab, cucumber, avocado, and spicy mayo. Another great option is the ebi ten roll, made with shrimp tempura and cucumber. Or enjoy an unagi roll, made with expertly grilled eel, this Eat What You Want Day.
For the Plant-Based Diner
Shōgun has vegetarians covered for Eat What You Want Day, too.
Start with our spicy take on the classic vegetable roll. Cucumber, carrot, and avocado balance out the sharp kick of wasabi mayo. We also serve a tofu teppanyaki entrée, complete with a healthy helping of veggies.
Wash it down with a sake by Tozai, whose entire line is vegan.
For the Kiddos
At our Japanese restaurant, we believe it's never too early to fall in love with teppanyaki. That's why we carry a delightful kids menu. Children 12 and under can order teriyaki chicken, shrimp, or strip steak in a kid-friendly portion. These dishes go great with Ramune, a Japanse soda served in a uniquely shaped bottle.
Thanks to our inspired children's menu and fun, family-friendly atmosphere, Shōgun holds an Open Table Diners' Choice award for being great for kids.
Something for Everyone this Eat What You Want Day
Now that you've explored our many menu options, the only thing left to do is head to International Drive for a delicious feast.
Reservations are strongly recommended for our Orlando restaurant. Click here to save your spot for National Eat What You Want Day.