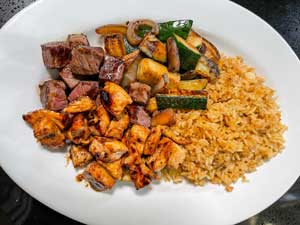 Shogun Japanese Steakhouse is proud to be a 2023 partner and excited to introduce our Magical Dining menu available August 27–October 2, 2023.
Shogun's Menu for Magical Dining
Shogun Japanese Steakhouse is offering a variety of prix-fixe options for each course to create a unique dining experience. Our 2023 Magical Dining menu features three tasty appetizers, entrée, and dessert selections to choose from.
Appetizers

The first appetizer option is tuna nigiri and salmon nigiri, which comes with two pieces each of tuna and salmon. The other two are classic sushi options: the shrimp crunch roll or the lemon drop roll.

Entrées

We are proud to offer several entrée options as well. The Shogun Special Teppanyaki offers grilled teriyaki chicken, New York strip steak, and shrimp. There's also the New York Strip Steak Teppanyaki, as well as the Samurai Teppanyaki, which has shrimp and grilled teriyaki chicken. All entrée options are served with vegetables and fried rice cooked at your table teppanyaki style with soup and house salad.

Dessert

There's always room for dessert. This year, we are offering New York Cheesecake, ice cream in various flavors, or Shogun's famous Chocolate Decadence Cake.
Magical Dining for a Great Cause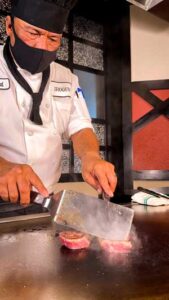 As Visit Orlando celebrates its 18th year of Magical Dining, this collaboration among restaurants from all over Orange County, Florida, continues supporting local nonprofits that help those in need. By offering three-course, prix-fixe dinners for just $40 or $60 per person, $1 and $2 from every meal, respectively, will benefit a local nonprofit that serves the greater Orlando area. Visit Orlando will also award a donation of $2,000 to one local nonprofit in each of Orange County's six commission districts. This year's charitable organizations include:
The Lifeboat Project

For the past 10 years, The Lifeboat Project has been committed to raising awareness on human trafficking and providing wraparound services and education to end the issue in Central Florida. Its mission is to empower the lives of survivors through short and long-term aftercare, residential programs, and education. This year, proceeds from the program will help support The Lifeboat Project's mental health counseling and trauma recovery and assist with human trafficking prevention and education.

Other Local Nonprofits
Plan a Magical Evening at Shogun
Shogun Japanese Steakhouse is Orlando's premiere hibachi restaurant. Located on International Drive at the Rosen Inn, we provide excellent food and a light atmosphere. Having won several awards in the Open Table 2020 Diners' Choice awards, Shogun is dedicated to providing the best hibachi possible for guests of all ages. To book a table, use the OpenTable online system or call Shogun Japanese Steakhouse at 407-352-1607.