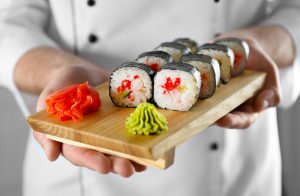 The color green is often associated with health and wellness, and there are quite a few foods that live up to the shade's standard. Packed with antibacterial and anti-inflammatory properties, wasabi has a lot of patrons wondering where they can get more. Here are a few ways to add this popular ingredient to your next dinner outing.
Dab It on Sushi
Even sushi novices know that soy sauce and wasabi always accompany sushi rolls, which makes this order an obvious choice for those who want to add more to their meal. However, the best way to use these condiments is to avoid mixing them. Adding wasabi to soy sauce can minimize the flavors of both ingredients and mute some essential tastes, which is why chefs place them separately. If you want to cover your piece with condiments, dip one side into soy sauce and use the other side to add a small dab of wasabi. Just remember, too much wasabi can mask the delicate flavors of your choice of fish, but a small scoop can actually bring out some of the most complex tastes in each roll.
Mix It with Mayo
Wasabi doesn't always have to show up on the side to be a part of your dining experience, because some of your favorite rolls already use it as a star ingredient. Turns out, rainbow, sunrise, philly, and vegetable rolls all come bundled with wasabi mayonnaise. This kicking condiment provides a subtle wasabi spice with a creamy mayo taste preferred by pickier patrons. A thin layer of wasabi mayonnaise is the perfect punch for wasabi newcomers, and it's light enough for enthusiasts to still add an extra little dollop over top. So, if you want to pack extra wasabi into your dinner, order rolls with double the reward.
Use It as a Dip  
If you're starting dinner with a fried finger food, like shrimp or vegetable tempura, ask for some wasabi or wasabi mayo on the side. As the perfect dipping sauce and nutrient-dense condiment, wasabi can add a layer of heat to any appetizer and get your palate ready for the main course. If you want to elevate your entrée, you can spice up your steak or other star protein with this delectable dipper. Ask for some wasabi on the side or have it heated right over the top of your cut.
Find It at the Right Restaurant
Wasabi might be a popular condiment, but not every restaurant is on the same page. If you want to enjoy all of the ways to eat wasabi, reserve your table at Shogun Steakhouse. Our authentic Japanese menu is filled with traditional and original items perfect for wasabi pairing. You can even find this colorful condiment throughout the specialty rolls in our Sakura Sushi menu. To book your reservation, visit our website or call us at 407-352-1607.