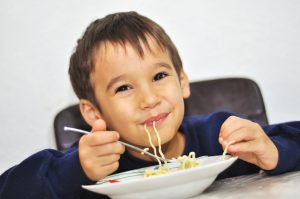 Plenty of people think that authentic Japanese restaurants cater to adults with a polished palate. However, you don't have to have the most refined taste buds to enjoy an amazing Japanese meal. In fact, the menu at Shogun Japanese Steakhouse was designed with picky patrons in mind—and these are some of the top kid-friendly (and picky palate friendly) dishes to order at your next outing.
Appetizers for All Ages
You don't have to be a kid to enjoy Shogun's starters, but it certainly doesn't hurt. Some of our most popular appetizers on the menu include:
Edamame – This colorful finger food is the perfect choice for children who don't like a ton of spices and sauces. Edamame has a very mild taste packed with a ton of nutrients.
Tempura – With an order of fresh, crispy tempura, you can make vegetables fun and flavorful for your children.
Okonomiyaki – Dumpling-like bites cooked to savory perfection, Okonomiyaki are a unique take on your child's favorite comfort food.
Enticing Children's Entrées
At Shogun, there are plenty of options for your child to pick their favorite protein. For patrons under 12, here are the top children's items on the Shogun entrée menu.
New York Strip – Seared to your child's preferred setting, our New York strip is the perfect cut for picky eaters at the table.
Teriyaki Chicken – This dish packs a ton of flavor. Teriyaki chicken is a fan-favorite for little ones who like a sweet tasting meal.
Teppankayi Shrimp – Let your child's taste buds set sail with an order of teppanyaki shrimp. Lightly seasoned to satisfy, this easy-going entrée is a great choice for eaters of all ages.
Desserts to Dive Into
It's not easy to make a sweet treat that won't satisfy. Here are some of Shogun's delicious dessert dishes that everyone at the table will want to take a bite out of.
Ice Cream – Simple and satisfying, you can easily top off any meal with a scoop—or two—of your little one's favorite flavor.
Chocolate Decadence Cake – For those who have a serious sweet tooth, the chocolate decadence cake is the icing on top of a perfect dinner.
New York Cheesecake – This rich and traditional dessert is the perfect slice for small and grown guests at your table.
Full-Course Fun at Shogun
If you're looking for the perfect place to hold attention and appetites, bring your little ones to Shogun Japanese Steakhouse. With an entire entrée menu dedicated to children, yours are sure to find a meal that meets their liking. To reserve a table for you and your family, call 407-352-1607.