For over 30 years, Madame Saito has been proudly serving Japanese cuisine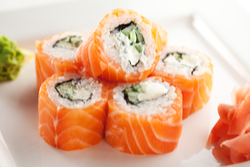 in the greater Philadelphia area. Born in Kobe Japan, Saito, whose given name is Ai, adopted the name Madame when she was living in Paris.
Saito and her husband decided to move to Philadelphia with dreams of enrolling their three sons into the University of Pennsylvania. After arriving in Philadelphia in 1981, the Saitos opened an authentic Japanese sushi bar in Upper Darby called Asakura.
In the 80s, Japanese cuisine in Philadelphia was enjoyed mostly by expats, which led Saito to begin teaching sushi classes along with other Japanese cooking techniques to expose her Western customers to the cuisine. She also started integrating additional western-style ingredients such as avocado, mayonnaise, and other sauces into her sushi.
By 1983, the Saitos purchased a second restaurant in Philadelphia's Chinatown which they named Tokyo Center. Known as the most authentic Japanese stop in Philadelphia, business was flourishing with expats and locals, who all loved the food and the atmosphere. Not only did the ground floor of the Tokyo Center have a triple sushi bar, but the three-story building included a cooking workshop space, kimono tailor, and Philadelphia's first karaoke bar.
The same year, Saito opened the first ever sushi bar at Reading Terminal Market, the most famous food destination in Philadelphia. Around the same time, Mayor William J. Green III asked Saito to create a signature sushi roll inspired by the city of Philadelphia. Most of Saitos non-Japanese regular customers were Jewish, so she thought of lox and bagels. She combined salmon and Philadelphia's own cream cheese brand, creating one of the world's most well-known fusion sushi dishes- the Philadelphia roll.
The Philly roll became so popular because those who were just beginning to eat sushi were less intimidated by starting with ingredients they were accustomed to. Also, back then many people in the restaurant business knew each other, which is how they were able to share menus all over the world.
In the 1990s and early 2000s, Saito was famous for her fusion cuisine where she catered to Americans pallets, but in the last decade has returned to her Japanese roots by serving more traditional Japanese dishes.
It's because of pioneers like Madame Saito that we can enjoy food items such as the Philly Roll for years to come. Although the same ingredients are typically used, they can vary depending on where the sushi is made.
For a Philly roll you'll fall in love with, visit us at Shōgun Japanese Steakhouse. Made with smoked salmon, cucumber, cream cheese, sesame seeds, and wasabi mayo, we know we'd make Madame Saito proud! Come and experience an authentic dining experience that combines skill, taste, and entertainment like no other restaurant located on International Drive. To make reservations for your next dinner, whether intimate or large, call us at 407-352-1607.