Have you been wanting to try sushi for the first time but are unsure of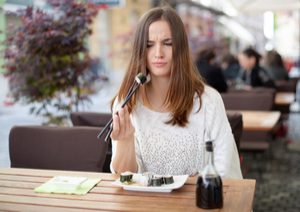 where to start? Maybe you've attempted to eat sushi once or twice before but aren't entirely sure you like it. No matter what previous sushi situations you may have encountered, we've come up with a few tips to help guide you to ensure you have the best (and most delicious) sushi experience.
Try sushi rolls made with cooked meat – If you're apprehensive at first about eating raw fish, start out by trying rolls that are made with meat that's either been smoked, grilled, or battered and fried. Some rolls include:
Ebi Ten Roll – Shrimp tempura, cucumbers, sesame seeds, and eel sauce

Philly Roll – Smoked salmon, cucumber, cream cheese, sesame seeds, and wasabi mayo (Read about the history of the Philly roll here.)

Salmon Yaki Roll – Grilled salmon, cucumber, sesame seeds, and eel sauce

Unagi Eel Roll – Grilled eel, cucumber, sesame seeds, and eel sauce
Eat rolls that contain familiar ingredients – When looking at your menu choices, select options that have ingredients you know you like eating. While the textures and preparation may be different, if you've had the same fish or seafood before and liked it, chances are you won't notice much of a difference, especially when it's mixed with vegetables and rice.
Start with vegetarian sushi – Whether you are vegetarian or not, there are many great selections to choose from that'll allow you to enjoy sushi. Kappamaki (Cucumber sushi rolls), Avocado rolls, sweet potato rolls, and sushi rolls made with mushrooms are some of the most popular ones.
Try mild items – If you're not a huge seafood fan, and worry that a roll may taste too fishy, opt for dishes that include milder items. Some great choices for beginners are maguro (tuna), ohyo (Pacific halibut), ika (squid), tai (red snapper), and hotategai (scallop).
Let the itamae (chef) guide you – If you want to be a little more adventurous in the beginning, try the omakase (chef's choice) dining option. The itamae will serve you the freshest ingredients they have on hand at the restaurant that day. There could be a wide variety of options. If you think you won't like a lot of what is prepared, you may want to leave this type of dining experience for the future.
Everyone is different when it comes to how daring they are when trying new food. Whether you want to start small or dive right in, begin eating sushi at a level that's most comfortable to you. Another good thing to keep in mind is that not all sushi is the same. At Shōgun Japanese Steakhouse, our itamaes take pride in preparing you the freshest dishes sure to turn you from sushi beginner to sushi expert in no time! To book your dining reservation at the best Orlando Japanese Steakhouse on International Drive, call us today at 407-352-1607.