The word tataki has two meanings when referring to Japanese food. The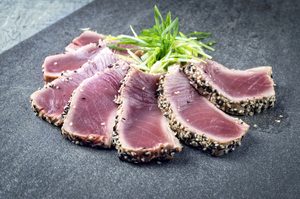 first meaning is used to describe a piece of beef or fish that is seared on the outside but left raw on the inside.
The style of tataki cooking is thought to have been developed by a 19th-century samurai named Sakamoto Ryoma, who learned how to grill meat from the European foreigners in the city of Nagasaki.
Bonito (skipjack tuna) has always been the preferred fish to use for tataki, but recently ahi tuna and salmon have become more popular choices. The beef that is usually prepared tataki style is either a filet mignon or a sirloin strip.
The art of tataki is achieved by quickly searing the meat over a grill that has high heat, giving crispiness to the skin but leaving the middle rare. When done correctly, the outside of the beef will be brown, while the fish should be white, and both will have a pink or red middle.
Once the fish is flash-grilled, many chefs will submerge it to stop its cooking process. But because immersing the fish can wash away good fat and flavor, other chefs prefer to let the fish cool by fanning it, then thinly slicing it and presenting it to the guest to eat.
The second meaning of tataki comes from the verb tataku, which means to pound or hammer. However, it's not the actual meat that's being pounded. Instead, it's ginger, which is ground or pound into a paste.
To experience the art of tataki yourself, come dine with us at the Shōgun Japanese Steakhouse located in Orlando on International Drive. Our restaurant is a perfect choice, whether you have a large group or a party of two. Book your reservation today by calling 407-352-1607.