If you're a seafood and steak lover, The Emperor gives you the best of both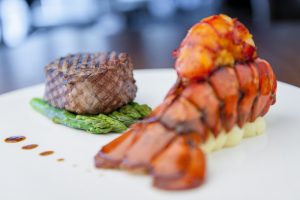 worlds on one plate by including our perfectly cooked lobster tail with the "king of steaks," the filet mignon. It's truly an amazing surf 'n' turf experience.
Surf 'n' turf became a popular dish across the U.S. when restaurants in the early 1960s started combining lobster tails with beef, putting it on their menus as a "special dinner." Fast forward to 2018, and you'll still see this dish incorporated into some of the most well-known restaurants in the world, including Shōgun Japanese Steakhouse, Orlando's very own favorite Japanese restaurant.
Cooked to perfection by our teppanyaki chefs on a large iron plate, The Emperor's tender melt-in-your-mouth pieces of filet mignon and succulent lobster meat will leave you completely satisfied. Our surf 'n' turf dish is served with teppanyaki vegetables, fried rice, soup, and salad with ginger dressing.
Book your table now at Shōgun Japanese Steakhouse and experience one of our most popular menu items for yourself. Whether you're looking to celebrate a special occasion, have an intimate date, or just enjoy some fantastic Japanese cuisine with friends and family, we want to help make your dining experience a memorable one.
Located in the Rosen Inn on International Drive, we are open for dinner at 6:00 p.m. daily. For reservations, please contact us by calling 407-352-1607 or make a reservation online.