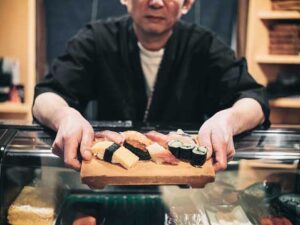 When you think of Japan, there are a few things that probably come to mind first — a white flag and red circle, colorful cherry blossoms in full bloom, or perhaps a plate topped with the most iconic dish in the nation: sushi. Because sushi is a cherished Japanese token, the chefs who prepare it are held to some of the highest standards in the culinary world. Let's take a look at what it's really like working as a sushi chef.
Training and Tradition  
Training to become a sushi chef is unlike training for most other culinary roles because of the specific dedication to tradition and precision. From chopping vegetables to plating the final product, sushi chefs spend years — even decades — mastering every step of the process. In fact, most chefs either train in restaurants, study culinary arts in school or learn through an apprenticeship before they ever start working in a Japanese establishment.
Applying the Principles
Once a chef has graduated from line cook or sous chef to sushi chef, they continue developing their skills and applying what they learned in training on a daily basis. Keeping food safety, taste, and texture at the forefront of the sushi experience, sushi chefs must also pay attention to every ingredient inside the roll. Additionally, sushi chefs must have exceptional knife skills and culinary acumen to know exactly which part of each type of fish to cut, which direction to move the blade, and how thin to slice them.
Putting It All Together
While the nature of preparing sushi requires extreme focus, a steady hand, and careful assembly, sushi chefs put in just as many steps as any other culinary professional in the kitchen. Because some rolls require cooked fish or fried vegetables, sushi chefs juggle cooking, cutting, rolling, and plating — which means they are constantly on their feet. And because the kitchen structure for sushi chefs is different than most others, these chefs can often directly interact with patrons right from the sushi bar, providing expert culinary knowledge and recommending specific sushi items.
Classic and Signature Sushi at Shogun
At Shogun Japanese Steakhouse, we take sushi seriously. If you're hungry for the taste of authentic Japanese sushi rolls prepared by our in-house sushi chefs, order from traditional and signature selections on our Sakura Sushi menu. Stop in for sushi or order your favorite rolls through Uber Eats.