For thousands of years, individuals in Asian cultures have been eating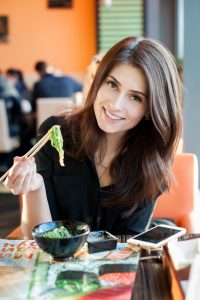 seaweed, and with good reason. Seaweed contains antioxidants, vitamins, calcium, and minerals, many of which are not found in land-grown vegetables. However, one of the best-known benefits of seaweed is that it's an outstanding source of iodine, a nutrient lacking in almost every other food. Consuming adequate levels of iodine is essential for maintaining a healthy thyroid. An underactive thyroid caused by iodine deficiency can lead to fatigue, depression, and difficulty losing weight. Eating just one gram of brown seaweed will give you five to 50 times the recommended daily intake, with red and green varieties yielding slightly less.
Beyond basic nutritional benefits, seaweed has also been known to regulate estrogen and estradiol levels, control PMS, and help prevent inflammation –  which can lead to numerous health problems like arthritis, celiac disease, and asthma.
Eating Seaweed
In Japanese restaurants, you typically eat seaweed that's incorporated into a small kaiso salad, miso soup, or sushi roll. But if you'd like to eat seaweed at home, you can do it in several ways. Add kombu (brown kelp) into soups. Use arame in a variety of dishes including baked goods. Seaweeds that are sold as flakes or granules can be used as a salt substitute. For a great gluten-free alternative, try kelp noodles, which are low in calories, high in calcium, and do not require any cooking before eating. Love fried chips, but want a healthier option? Dulse is a softer, chewy-textured seaweed that's commonly dried and eaten as a snack.
Mixed with the right ingredients, seaweed can be exceptionally flavorful, while at the same time provide you with a number of health benefits.
For delicious kaiso salads, freshly prepared sushi rolls, authentic nigiri, and sashimi – dine with us at Shōgun Sakura Sushi located at the Rosen Inn. For reservations, book your table online or call us at 407-352-1607.