Seaweeds are a crucial part of Japanese cuisine and are used in a variety of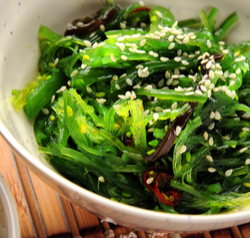 dishes such as soups, sushi, and salads. The word seaweed refers to a variety of species and is divided into three different Phylum: Rhodophyta (red), Chlorophyta (brown), and Chlorophyte (green). Japanese cuisine uses all types of seaweed, which gave rise to the Japanese word kaiso meaning mixed seaweed.
Kaiso salad is typically made with a versatile, brown seaweed called wakame (Undaria pinnatifida). Wakame provides many health benefits and is an excellent source of the following:
Magnesium
Iodine
Calcium
Vitamins A, C, D, E, and K
Riboflavin (Vitamin B2)
Folate
Lignans
Wakame is salty with a slightly sweet taste and has been grown for hundreds of years by Japanese sea farmers. However, it has become increasingly popular in the west, especially among vegetarians and vegans because of its high omega-3 fatty acids.
The wakame that is mixed into the kaiso salad is not just a favorite of those who prefer a plant-based diet. All kinds of people love the simple combination of the seaweed and its spicy-sweet seasonings.
How Kaiso Salad is Prepared
Only the branches and stems of the wakame are used in the salad. Although there are many ways to prepare a kaiso salad, it is typically made with strands of agar-agar, rice wine vinegar, sugar, toasted sesame seeds, hot red pepper, and sometimes soy sauce.
How is Kaiso Served?
Kaiso salad tastes delicious on its own when eaten with chopsticks or a fork as an appetizer, or when paired with dishes such as grilled or steamed fish, shellfish, and vegetables.
Enjoy a Favorite Today
Whether you want to try something new, or you've enjoyed our food in the past, start your meal off right by ordering our favorite, the kaiso salad, as an appetizer next time you dine with us at Shōgun Japanese Steakhouse located on International Drive in Orlando. To book your dining reservation, call us today at 407-352-1607.