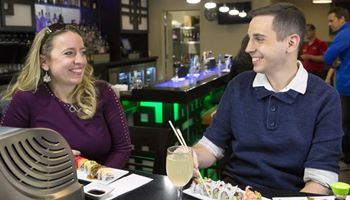 You might be familiar with how to use chopsticks for everyday meals, but taking on more complex dishes can seem like an unreachable milestone. To make these traditional utensils easier to use at every level of expertise, we've put together a go-to chopstick guide.
For Specific Dishes
Despite how daunting it may seem, there's not exactly a perfect way to pick up noodles or rice with chopsticks. However, it's always best to aim for small amounts when using chopsticks, because you won't be able to twirl noodles into a bundle or grab large bites of rice like you would with a fork.
Eating Rice
When eating rice with chopsticks, hold your sticks sideways so you can scoop rice out of the bowl. Position your sticks underneath a cluster of rice and slowly bring them closer together as you lift the rice. To make this dish easier to eat, bring the bowl closer to your mouth to reduce the amount of time you'll have to balance each bite on your chopsticks.
Eating Noodles
Once you've assumed the correct handling position, use your chopsticks to grab noodles from either end or anywhere in the middle. When you have a solid but delicate grip on the noodles, simply lift them from the bowl to your mouth. Start slurping the noodles and use your chopsticks to lift the remaining bits of noodle to keep broth from splashing. If you're struggling to keep a good grip, you can also use your chopsticks to lift noodles into a spoon until you're ready to try again without it.
For Specific Ages
Chopsticks have a bit of a learning curve, but these tools are much easier to master when you start using them as a kid. Learning to use chopsticks can make meals more enjoyable and interactive for everyone at the table. There are many gadgets designed to ease kids into using chopsticks, but these aren't necessary for teaching your children how to eat more traditionally.
Encourage your kid to grip the chopsticks just as they would a pencil and make sure they comfortably use their dominant hand. When first introducing your child to chopsticks, you may want to start with larger pieces of food that are easier to grip. Typical beginner foods include:
Broccoli florets
Pieces of chicken or beef
Apple chunks
Marshmallow pieces
Once they've gotten the hang of it, encourage them to move on to rice or noodles. Remember, using chopsticks shouldn't be something your child dreads. If they struggle to get the hang of it at first, keep a fork ready for them to switch back and forth comfortably.
Chopstick-Friendly Steakhouse in Central Florida
You don't have to be an expert chopstick user to enjoy a meal at Shogun Japanese Steakhouse. With a range of sushi rolls, udon bowls, and chef's specialties, you can practice using chopsticks at every level. We also have a children's menu filled with chopstick-friendly entrees that will prepare your little ones for more challenging dishes. To reserve your table, call 407-352-1607 today.