Teppanyaki is a word used to describe how a particular dish was prepared.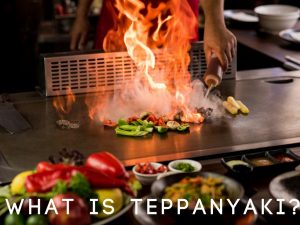 The word teppanyaki directly translates to "grilling on an iron plate." You'll commonly see steak, seafood, and even fried noodles cooked on a teppanyaki. Unfortunately when most people say "hibachi- style cooking," they typically mean teppanyaki. Although they are quite similar, there are a few significant differences between the two styles as listed below:
Teppanyaki
Griddle-style cooking
Flat, solid grill
Ideal for chopped ingredients like onions, bean sprouts, and mushrooms
Hibachi
Open-grate grill
Uses charcoal to cook foods
Can cook larger items like meats
Where Did it Come From?
Teppanyaki-style cooking inspired the idea of Japanese steakhouses. Gathering a group of people around a large and flat grill to watch a master chef prepare dinner was not a popular outing until 1945 when a restaurant chain called Misono cooked on a teppan in Japan in front of guests. However, this style of cooking was found to be more popular with tourists rather than the natives of Japan. The tourists were hypnotized by the skillful maneuvers and tricks performed by the chefs. By 1964, teppanyaki was made popular in the United States by the Benihana restaurant chain in New York. It continues to be one of America's favorite Japanese-style dining experiences.
Shogun Japanese Steakhouse
This westernized Japanese cooking style is both fun and delicious. When you eat out at restaurants like Shogun Japanese Steakhouse, you're choosing a venue that's perfect for birthdays, anniversaries, and all celebrations alike. To book your next event with us, call us today at (407)-352-1607.