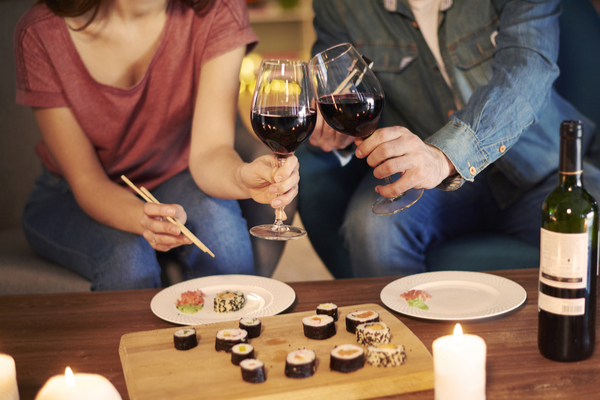 Maybe it's been a while since you and your spouse have carved out a night to simply spend time with one another. Maybe you've just met someone you'd like to ask on a first date, or you are looking for somewhere different for you and your significant other to try. Whatever the case, you can't go wrong with Shōgun Japanese Steakhouse at the Rosen Inn.If you are going to go out on a date, do it right  – don't settle for just any old sports bar or chain restaurant. Here are 4 reasons why you should choose Shōgun for your next date spot.
Exciting, Fresh Food
A great date night always starts with the food, and the food at Shōgun is a notch above. Pop in for sushi happy hour at the bar from 5 p.m. to 7 p.m. every day and get classic rolls like the Spicy Tuna Roll or the Philly Roll for only $5. Then, pull up a seat at a hibachi table to watch our teppanyaki chefs prepare all your steakhouse favorites like filet mignon, lobster tail, and shrimp right in front of you. There's no better combination of excellent food and dazzling showmanship in the city for a date night.
Adventurous Drink Selection
Any restaurant you go to will likely have a bar, but Shōgun steakhouse puts a unique twist on their signature drinks and features others you won't find elsewhere. Spice up your date night by trying Japanese classics like sake and plum wine for the first time. Or, order one of our inventive signature cocktails for an unforgettable drink, like our Maiko Mango Punch. It is a delicious blend of rum, sake, and tropical fruit juices for a Japanese spin on a Caribbean favorite.
Relaxed Atmosphere
First dates can be tough, and a formal dining setting can put even more pressure on coming up with interesting things to talk about. You don't want there to be an awkward lull in the conversation or any etiquette flubs which could kill the vibe. At Shōgun steakhouse, you don't have to worry about any of these first date blunders. There's a hum of energy about the restaurant which promotes excitement and conversation without being too noisy and drowning it out.
Nice, But Not Stuffy
You want to show your date a good time and have a memorable outing, but sometimes it can be difficult to decide on what sort of place you should go to. Sports bar settings can be too casual and distracting, and you risk telling your date that you don't care enough about them to take them someplace nicer. On the flipside, somewhere too fancy could make you come off as a snob or showoff. Strike the perfect balance by choosing Shōgun steakhouse, where a stylish scene meets fun and entertainment.
To book your table today, visit our reservation portal on the website or give us a call at 407-352-1607.