Any restaurant should try to cater to the dietary needs of its customers, and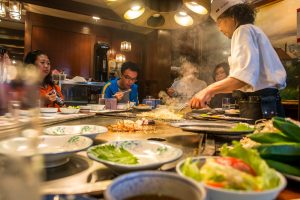 at Shogun Japanese Steakhouse we are no different. Many people are opting for a vegetarian lifestyle, and we embrace it wholeheartedly by offering meal options which don't interfere with the vegetarian diet.
Appetizers
Whether you're dining with meat-eaters or other vegetarian friends, our appetizers are sure to please everyone. Our menu features many great options that allow you the indulgence of exquisite Japanese cuisine without compromising your vegetarian tendencies. Edamame, East Asian soybeans, is a delicious and nutritious start to your meal. If you want more greens in your diet, try our kaiso salad, which is made of seaweed.
Entrees
It is often difficult to find a main course dish which doesn't include meat, but we offer a variety of wonderful tofu options, including one prepared with vegetables on our teppanyaki grill. The meal also includes fried rice, miso soup, and a house salad adorned with ginger dressing.
Sides
No meal is complete without a satisfying side, and just because you are a vegetarian doesn't mean that you won't have any options. We have a comprehensive menu of side orders which accommodate vegetarian needs, such as:
White rice
Fried rice
Udon noodles
Vegetables
Salad
Once in a Lifetime Experience
Embracing the vegetarian lifestyle doesn't mean you have to give up on traditional Japanese cuisine. Shogun Japanese Steakhouse works hard to meet the needs of all of our customers, while remaining true to our Japanese roots. By offering such a wide variety of vegetarian options, we can ensure you a phenomenal dining experience. Book your table today by calling us at 407-352-1607.