When it comes to dining out, it should be no surprise that the atmosphere is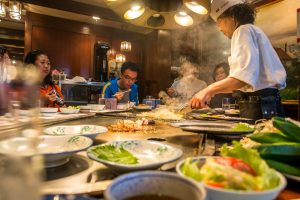 just as important as the food itself. When you go out to eat, you want to ensure that your restaurant of choice offers a phenomenal ambiance to heighten your experience. At Shogun, our group seating offers just that by providing you with a fantastic dining experience as you mingle with new friends.
Enjoying the Show
A major component of what makes Japanese cuisine so fascinating is its construction. In almost any other restaurant, your food will be made in the kitchen out of your sight, but at Shogun Japanese Steakhouse, we offer group seating around our teppanyaki griddles. This seating arrangement places you on the front lines of the action as your chef prepares your meal. The process of creating your meal on a teppanyaki griddle becomes an art form as our skilled chefs put on a show.
Eating and Interacting
Enjoying a meal together is a social event which is why we offer you an ideal seating situation in which the entire party can sit around the grill. This type of seating results in great communication. You even have the opportunity to meet new friends if your party doesn't take up the entire seating area around the griddle.
Your Ideal Restaurant
Food plays a major role in many social interactions, and at Shogun Japanese Steakhouse, we create the perfect atmosphere to sit together and bond over a meal. Whether it be a business dinner or a meal among friends, you can rest assured in knowing that you will receive a top of the line experience. Reserve your table today by calling us at 407-352-1607.