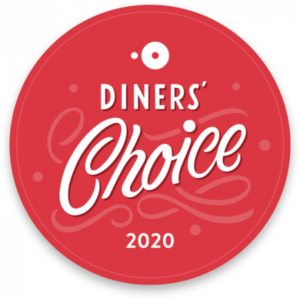 After compiling thousands of patrons' feedback and recommendations, OpenTable's Diners' Choice awarded Shogun Japanese Steakhouse in Orlando with two Diners' Choice awards.
What Are OpenTable Diners' Choice Awards?
Registered users of the OpenTable app can find and make reservations to local restaurants and provide honest feedback after a meal. The restaurants that OpenTable diners enjoyed the most received Diners' Choice awards. OpenTable then recognizes award-winning locations by featuring them on prestigious Diners' Choice lists.
Which Diners' Choice Awards Did Shogun Win?  
There are over 52,000 restaurants in OpenTable's eatery directory, but patrons specifically rave about the quality dining at Shogun.
Thanks to the positive feedback from so many Shogun visitors, the steakhouse proudly wears an OpenTable Diners' Choice badge. In fact, Shogun took home two 2020 awards: one for being "Good for Groups" and one for being "Kid Friendly."
Whether you've got a party to feed or a picky patron to please, you can count on Shogun to serve up an exciting, appetizing, and entertaining culinary experience.
Over the years, diners have kept coming back to Shogun for its delicious food and unique entertainment that the whole family can enjoy. Now, they have even more reasons to return.
Our Tables Are Open Ready to Serve
Shogun is currently open Thursdays through Sundays for in-house dining from 5:30 p.m. – 9:30 p.m. Stop in and enjoy a drink in our lounge from 5:00 p.m. – 12:00 a.m., or order your favorite sushi rolls to go through Uber Eats (last orders placed by 9:30 p.m.)
Reserve Your OpenTable at Shogun
Of course, you don't have to be an OpenTable diner to enjoy a full-service, full-entertainment experience at Shogun. However, Shogun has partnered with OpenTable so you can easily set your reservation online, earn points while you eat, and rack up all kinds of rewards. To book a table, use the OpenTable online system or call Shogun Japanese Steakhouse at 407-352-1607.
Shogun Japanese Steak house serves traditional Japanese appetizers, signature and classic sushi rolls, and flavor-packed entrees. Complement your meal with a number of exciting cocktails, Japanese wine flavors, and imported beer options.