Whether you order fish, chicken, or beef, teriyaki sauce is a popular addition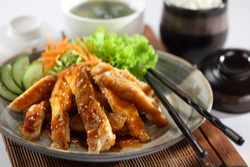 to many food items in Japanese cuisine. The word teriyaki refers to a method of cooking and combines the words "teri," meaning luster or gleam, and "yaki," meaning grilled or broiled.
History
Teriyaki cooking methods have been used for centuries, beginning in the Tokugawa (or Edo) period. During the Tokugawa shoguns dynasty (1603-1867), many changes in urbanization and agricultural methods led to the introduction of new ingredients and styles of cooking.
While shouyu is the primary flavoring used in authentic Japanese cooking, teriyaki became popular in the United States during the 1960s when Japanese immigrants settled in Hawaii. This unique marinade was created using local products such as pineapple juice and brown sugar, which were blended together in soy sauce.
Ingredients
Traditionally, teriyaki sauce is made by mixing and heating three ingredients: sugar, soy sauce, and sake (or mirin). Mirin is a Japanese rice wine, similar to sake, but with more sugar and a lower alcohol content of 14%. However, there are many versions of teriyaki sauce, which include the addition of garlic, ginger, cornstarch, honey, vinegar, and red pepper flakes.
Teriyaki sauce is appealing to many because of its simplicity and the way it makes food look even more appetizing. The mirin or sake, along with the caramelization of the sugar, is what gives the teriyaki sauce its luster and shine.
Preparation
If you want a thick, glossy, and sticky sauce to use as a topping or to serve on the side, then you'll want to reduce the mixture when cooking. You can do this by combining the ingredients in a small saucepan, bring to a boil, and then reduce heat to simmer until sauce has thickened and reduced by half–about 10 minutes.
Marinating meats and veggies in teriyaki sauce up to 24 hours before cooking is also a popular method of preparation. The teriyaki dishes are then served with steamed white rice, which is eaten with the excess sauce.
Influencing Japan
Teriyaki sauce is not only a favorite in the United States but has become increasingly popular in Japan over the last couple of decades. Fast food chains now offer menu items such as teriyaki burgers, hamburger steak, and meatballs made with teriyaki sauces, as well as other similar sauces, which appeals to both children and adults alike.
Enjoy Your Favorite Dishes with Our Teriyaki Sauce
At Shōgun Japanese Steakhouse, we offer freshly prepared dinners of beef, chicken, shrimp, and lobster. Enjoy your favorite meal with the addition of our delicious teriyaki sauce, and see why so many of our guests order teriyaki dishes time and time again! The combination of our authentic cuisine and the entertainment our teppanyaki chefs provide will surely leave you feeling satisfied. Call us today at 407-352-1607 to reserve your table.