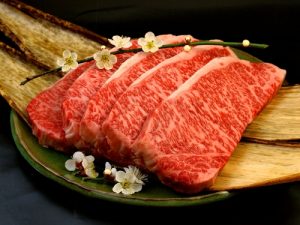 Wagyu is a Japanese term for a type of cattle breed native to the island nation. It refers to all Japanese beef cattle. The "wa" in wagyu means "Japanese," and the "gyu" means "cow." The cattle are selected for their physical endurance, with the selection bred to have more intramuscular fat cells. These fat cells are what gives cuts of beef its marbling effect. The Kobe beef, Mishima beef, Matsusaka beef, and Omi beef fall under the wagyu category.
Unique taste and tenderness. The marbling on the wagyu beef imparts a unique flavor. In the past couple of years, the beef has found its way into the repertoire of fine restaurants across the United States, including Shogun Japanese steakhouse. Not only is a delicious, but the monounsaturated fats to saturated fat ratio is higher in wagyu beef. 40 percent being the version called stearic acid, which is noted to have minimal impact on cholesterol when compared to other varieties of beef.
Cuts and flavors. Just like any sort of beef, wagyu has different cuts with their unique flavor profiles. The sirloin meat is generally used as a type of steak or colloquially called sukiyaki. It has a subtle marbling feature. Other prime cuts include rib roast, the chuck flap, and the bottom flap. The sirloin has a full-bodied taste that quickly spreads throughout the mouth, while the ribs have a deep flavor which tastes best with a hint of salt.
Shogun Japanese Steakhouse offers a unique dining experience that combines the skill of our chef with ambiance and entertainment delivered via an authentic Japanese menu. Our steakhouse highlights the culinary talents of our traditional teppanyaki chefs, who are seasoned experts on the grill. Once you're seated, they will manipulate the heat and fire in front of you — the audience — to immerse you in the creation of popular dishes, including prime cuts of wagyu beef. You can make reservations via our contact page.