With so many dining options to choose from in Orlando, it can be difficult to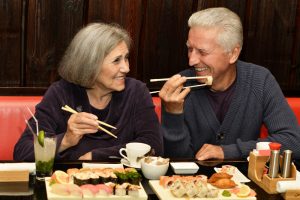 decide where to go for your date night. A Japanese restaurant is a great choice for its delicious menu items and signature cocktails in an atmosphere that's anything but ordinary.
To help make your dining decision easier, here are some of the top reasons guests continue to choose Shōgun Japanese Steakhouse for their night out.
Incredible Food
Indulge in freshly prepared dinners consisting of beef, shrimp, chicken, salmon, and lobster. Don't eat meat? We have vegetarian menu options as well.
Full Bar
No matter what your drink of choice is, our full bar provides a variety of options to satisfy your thirst. Try Rosen Hotels & Resorts specialty beer, the Alligator Drool, a medium-bodied American pale-ale, or the Shogun Ginger-Rita made with Cuervo silver tequila, ginger beer, with splashes of agave nectar and lime juice. We also have many non-alcoholic drinks available.
Entertainment
Teppanyaki grilling adds an extra fun factor to your meal. Watch as our teppanyaki chefs manipulate the the flat-iron grill to entertain you while they prepare your food.
Amazing Ambiance
If you're looking for the perfect place to have an exciting yet romantic date night, dine with us at the Shōgun Japanese Steakhouse located inside the Rosen Inn. With the incredible cuisine, friendly staff, and charming atmosphere our restaurant provides, we know you'll have an unforgettable night. For reservations, please call 407-352-1607 or book a table online.