Every year, you and your significant other share an anniversary that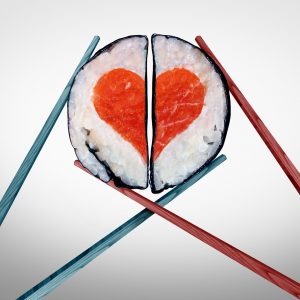 represents your enduring love, which is why you strive to make each celebration even more memorable than the last. Whether honoring one, five, or 50 years of togetherness, here are a few reasons why Shogun Japanese Steakhouse is the perfect place to commemorate this special date.
The Flair of Japanese Fare
Catering to full-on foodies and not-so-adventurous eaters, the sushi menu balances classic and original sushi options. Pick a staple sushi order you know and love, like a vegetable, spicy tuna, salmon yaki, or ebi ten roll. Or, select from exciting, signature sushi options to find your new favorite flavors. Some of Shogun's top signature sushi items include the Yagura, Godzilla, Mexican Shrimp, and Lemon Drop rolls.
Luxurious entrée items — served with Teppanyaki vegetables, fried rice, soup, and house salad with ginger dressing — include indulgent options like lobster, filet mignon, and salmon. If you're in the mood for a little more variety, you can choose from chef specialties to join your preferred proteins into a dish worth celebrating.
Our Chefs' Showmanship
A great chef can whip up a great meal, but a Shogun chef will also pair your dinner with a great performance. While preparing your meal, our trained teppanyaki chefs display precise knife skills and all-around showmanship right from your teppanyaki-style table.
Patrons of Shogun remember more than what they ate; they remember a perfectly paired dining experience. Filled with delectable aromas of fresh ingredients, exotic flavors of Japanese cuisine, and exemplary exhibitions of culinary performance, a night at Shogun will make this relationship milestone even more memorable.
A Signature Drink Selection
Toast to years of romance with the Shogun signature cocktail of your choice. For sweet, fruity sips, try the Japanese Slipper, Yokohama Mama, or Empress Martini. Or, for a citrus kick with a subtle hint of mint, try the Tokugawa-rita. To share your favorite drink and upgrade to a cocktail for two, ask your shogun server to upsize your glass to a "Super Bowl."
If you and your significant other would rather split a bottle than share a bowl, browse the steakhouse's wine menu and select flavor blends from plum Ume-shu, traditional Shōchū "Non-no-ko," or a variety of other options including moscato, pinot noir, and chardonnay. No matter what you're in the mood to sip on, Shogun has traditional and modern options to satisfy your palate as a pair.
Celebrate With Shogun
To surprise your significant other with an unforgettable experience, reserve your table at Shogun Steakhouse. After browsing the sushi menu, specialty cocktail selections, and tabletop entrée options, you won't want to look anywhere else for your anniversary celebration. Book your reservation today by visiting our website or calling 407-352-1607.