Have you ever had the reoccurring issue where you sit down for dinner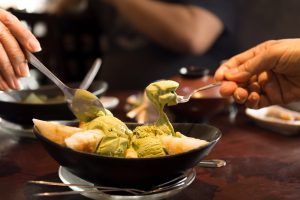 intending to have dessert afterward only to become so stuffed that you can't imagine having one more bite of your meal, much less a dessert?
If you have, you're not alone! Fortunately, there are a few things you can do to ensure you satisfy your sweet tooth at every meal.
Skip the appetizer – While this may be hard to do, especially when you feel like you're already starving, just think – it will be worth it in the end. If you insist on having an appetizer, opt for having one that isn't too heavy such as edamame or a kaiso salad.
Order smaller meal portions – In the United States, we love to get a whole lot of food for as little money as possible, so the temptation to order big can be hard to resist. However, when you can, opt for a smaller sized meal to leave more room in your belly, allowing you to satisfy your sweet tooth craving later on.
Bag your meal to go – When you place your order, ask the server to plate half of your food and then bag the other half to go. By doing this, you will still eat enough food to feel satisfied but won't have the temptation to stuff yourself with everything sitting in front of you. If you worry doing this will still leave you hungry, don't forget you still have dessert to look forward to.
Eat dessert first – This last way is our personal favorite! No one says you have to wait until after your meal to have dessert (except mom). So go ahead and order that ice cream or cake (or both) first; we won't tell.
Now that you've read some helpful tips on how to save stomach space for your favorite sweets, you should be able to enjoy eating delicious sushi or teppanyaki with plenty of room leftover for dessert.
Whether you're craving sweet and creamy ice cream, rich chocolate decadence cake, or a classic New York cheesecake, our desserts will leave you smiling. Conveniently located on International Drive in Orlando, we're the perfect place to visit when looking for the best Japanese food in Central Florida. To reserve your table contact the Shōgun Japanese Steakhouse by calling 407-352-1607 or book a table online through our website.