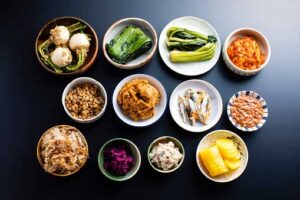 Because China and Japan each have such diverse histories rooted in age-old traditions, the food that comes from these regions isn't only unique in flavor, but also preparation and presentation.
Let's take a look at the key differences between Chinese and Japanese food so you can decide which to enjoy at your next meal.
Minimal or Maximal?
Chinese dishes are known for packing a lot of flavors. A range of spices, seeds, and sauces add heat, crunch, and tang to vegetables, meats, and grains. But if you prefer a simpler, more delicate taste, you might want to turn to Japanese-style food.
Japanese cuisine leans into the principles of minimalism. Preparing dishes with few added ingredients, spices, and garnishes, Japanese chefs aim to elevate the natural flavors already present in proteins, grains, and produce. That's why this style of cooking is preferred by patrons with sensitive stomachs and picky taste buds.
A Few or an Assortment?
Patrons who keep coming back to Chinese food generally appreciate the same types of entrées. That's because Chinese dishes tend to stick to a handful of star proteins such as:
Other restaurant goers lean towards Japanese cuisine because it offers a more diverse array of dining options. For example, Japanese entrée options often feature proteins including:
Chicken
Beef
Lobster
Calamari
Shrimp
Salmon
Tofu
Prepared Fresh or Fried?
One of the main areas in which Chinese and Japanese cuisine diverge is the cooking process.
Frying foods in thick batter, grease, and oil gives Chinese dishes a heavy dose of flavor, crunch, and heartiness. However, it can leave some eaters feeling overly full, weighed down, and even tired.
When it comes to Japanese cuisine, however, freshness is essential. In fact, patrons can enjoy food at its absolute prime thanks to Japanese sushi — a culinary delicacy prepared with raw fish and vegetables. Furthermore, when cooking foods, Japanese chefs tend to grill or pan-sear ingredients rather than fry them, which leads to lighter meals and plenty of room for dessert.
Which One Is Right for You?
Maybe Japanese cuisine is right for you … this time around.
If so, get an authentic taste and have a genuine hibachi experience at Shogun Japanese Steakhouse. Or, if you'd rather take a full course of traditional Japanese cuisine to go, order from our takeout menu. Our teppanyaki chefs prepare each dish with fresh, crisp, and ripe ingredients, so you're always guaranteed a healthy meal. To order your meal, call us today at 407-352-1607.