Visit Orlando's Magical Dining Month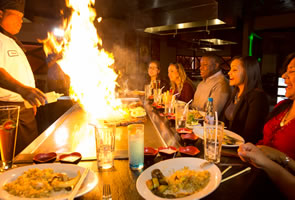 Dine for a good cause at Shogun Japanese Steakhouse during Visit Orlando's Magical Dining Month. The popular fund-raising event for local charities features the best of Orlando dining. Pique the palate with a Sunrise or California Roll. Set the senses on fire with the Shogun Special II—the popular surf and turf Teppanyaki entrée of filet mignon, chicken, and shrimp. Or go all surf with the Kaisen, another Teppanyaki fave featuring shrimp, salmon, and scallops. Soup and salad are served with both entrees. Save space for the sweets! It's a toss-up between a rich, heavenly slice of decadent chocolate cake or New York cheesecake.
The Shogun Japanese Steakhouse dining experience combines true skill, taste, and entertainment unlike any other on International Drive. Our steakhouse highlights the culinary skills of our teppanyaki chefs as true shoguns of the grill. Watch as they manipulate heat and fire right in front of you to create a satisfying meal. Group seating around the grill as well as table settings are available at Shogun Japanese Steakhouse. It's the perfect choice for family gatherings and small parties.
Offer valid August 25 through October 1, 2017
For reservations, please call (407) 706-2238 or book your reservation below: